Laishyang(Melody) Ouyoung | INSTRUCTOR
---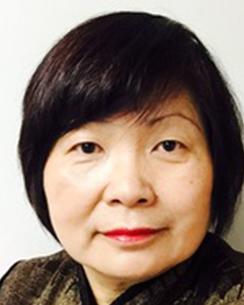 Laishyang(Melody) Ouyoung, M.S., CCC-SLP, Lac, is a speech-Language Pathologist with over 30 years of experience. Ms. Ouyoung is the Manager of Speech Pathology at Keck Medical Center of USC. She has established outstanding dysphagia and voice programs specialized in head and neck cancer, voice disordered, and neurologically involved patients. Ms. Ouyoung is also a licensed acupuncturist who has applied Traditional Chinese Medicine principles to her challenging dysphagia and voice patients with positive clinical outcomes. She has been trained to do myofunctional therapy and advanced breathing technique to treat current patients with good results.
She has conducted workshops in Hong Kong, Taiwan, China and India for many years. She has trained rehabilitation physicians, speech clinicians and special education teachers in the topics of dysphagia, voice, speech, autism and myofunctional disorders both nationally and internationally. Ms. Ouyoung has published the following articles: 1) Evaluation of Swallow Function After Tongue Cancer Treatment Using Real Time Magnetic Resonance Imaging: A Pilot Study: Oct 2013: JAMA Otolaryngology-Head and Neck Surgery 2) Swallow Function of Oropharyngeal Cancer Patients Using MRI: Feb 2014-Internaional Journal of Radiation Oncology Biology Physics 3) ABCLOVE: Voice Therapy Outcomes for Head and Neck Cancer Patients: Sept 2015-Head and Neck 4) Laryngeal Elevation Velocity and Aspiration in Acute Ischemic Stroke Patients: Sep 2016 PLoS ONE
She published the first Chinese Dysphagia Handbook Titled Evaluation and Treatment of Swallowing Disorders: Clinical Handbook in Taiwan in 2008 which is in its second printing. In 2013, Ms. Ouyoung published Parents Manual for Speech Language Delay Children. In 2015, Ms. Ouyoung published Speech and Swallowing Rehabilitation for Head and Neck Cancer and ABCLOVE Voice Training. She is a member of California Speech-Language-Hearing Association and American Speech-Language-Hearing Association (ASHA) and has received numerous ASHA ACE Awards. Ms. Ouyoung is fluent in English, Mandarin, Cantonese and Taiwanese.
---
"Myofunctional Therapy is very beneficial for people who have problems in speech, swallowing, breathing, jaw, facial pain and sleep apnea. With my specialities in different areas, I can apply my broad clincial expertise to help patients in wide range of problems listed above and help my clients to achieve positive outcome."Melody Ouyoung
"Always trying to do my best to serve my clients with positive outcome"
---
Contact Information:
Laishyang(Melody) Ouyoung, M.S., CCC-SLP
120 N Doheny Drive, Apt 204
West Hollywood, CA 90048
Phone: 323 552-8136